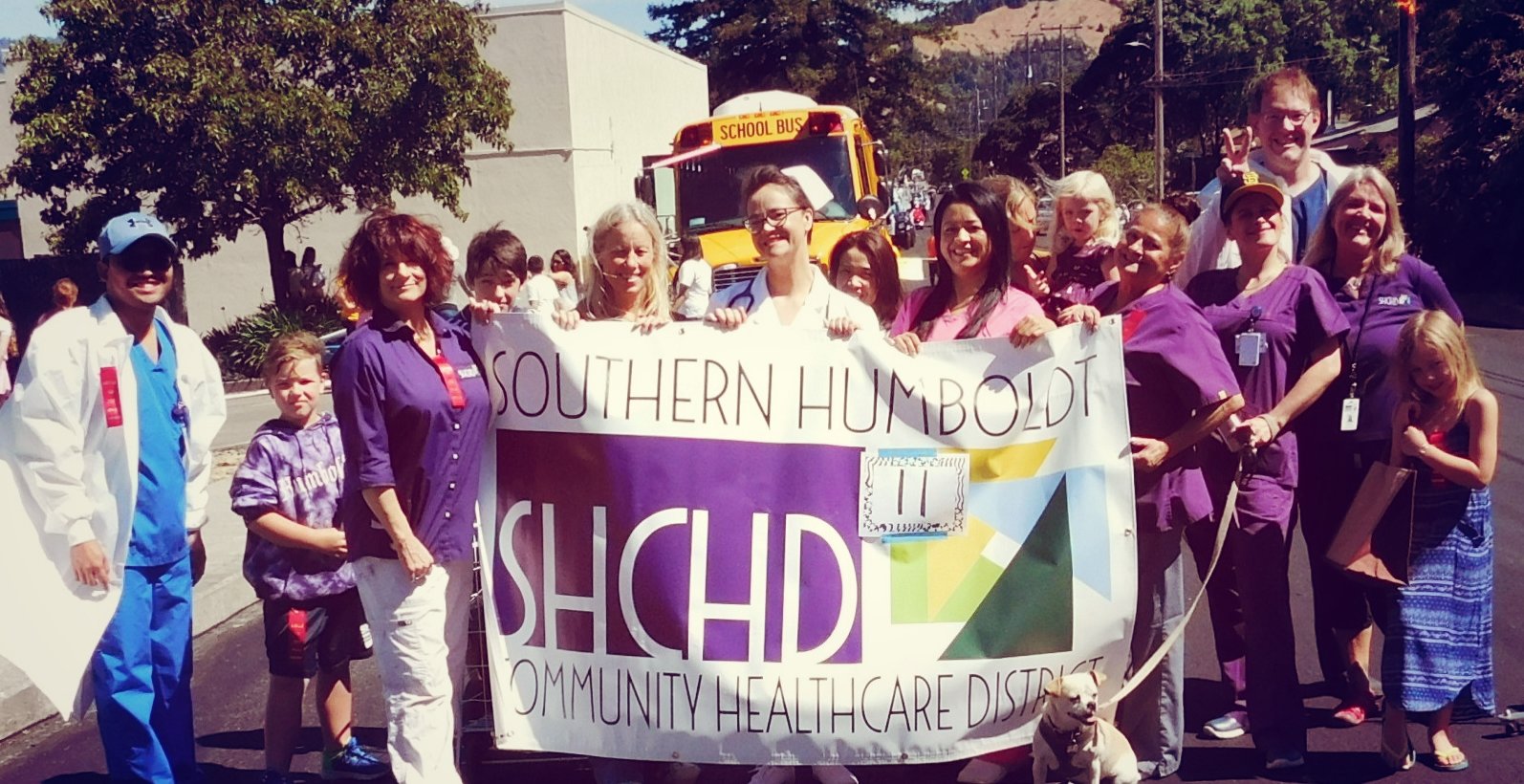 Why we work at SHCHD
By Barbara Truitt,
People are the heart of healthcare. Here at the Southern Humboldt Community Healthcare District, nearly 100 people work in our hospital ER, clinic, skilled nursing facility (SNF), and all their support services to care for our community around the clock, every day of the year.
Writing this column about why our employees work here has been a treat, as so many of my co-workers have been eager to share their opinions. I wish I'd had room to include all they had to say.
There is a saying in Southern Humboldt — we take care of our own, with a close knit mentality and a strong sense of community.
Who We Are
We range from those who've been on staff for 20 years or more to the 22 people who were hired in the last year to work in positions ranging from Clinic Physician to Hospital Cook to Skilled Nursing Facility Activities Director to Nurses with various certifications. Some of us were born and raised here, and others came from as far away as the Philippines. Like the other healthcare providers in Humboldt County and across the country, we work with per diems (as-needed employees) and locum tenens (practitioners on temporary contracts). Together we have nearly 400 years' experience at SHCHD, along with an additional 150+ years of relevant experience in other settings.
Why We Work Here
Our Visiting Nurse puts it this way: "I value the ability to deliver supportive holistic nursing care that also allows for the development of meaningful relationships with my patients and their families. SHCHD is a positive place to work, with competitive wages and benefits, and coworkers who are warm, friendly, respectful, and a good bunch of folks to work with!"
Our Clinic physician commented that she enjoys this community and likes helping people connect with the holistic providers here.
A 5 ½ -year SNF nurse adds "I feel honored that SHCHD has me in their employ as a nurse. There is a saying in Southern Humboldt — we take care of our own –, a close knit mentality and a strong sense of community. When it comes to feeling like a large family confined into a building, Jerold Phelps Community Hospital captures that to a tee."
Patient-centered Care
Says a former locum tenens radiology tech now on staff here, "In my traveling experience, and of all the hospitals I have worked at, this is the friendliest, most patient-oriented of hospital of them all."
A 6-year administrative employee said this: "The District provided my father with services that allowed him to spend the last years of his life in our home, and nothing can replace that valuable time we shared. He told me often how the staff here treated him so well."
Echoing many other comments, one of our clinic nurses said "I have heard patients remark many times on how well cared for they feel when they come here, either to our ER, clinic, or outpatient services."
A Good Employer
Many on staff applied here for the good pay, now starting at $15 per hour, as well as the excellent benefits we provide to both full and part-time employees. Along with our medical, dental, and vision insurance, our employees pay no copays or deductibles for services they receive here. But the teamwork, dedication, and family feeling among co-workers, as well as the respect and support they receive from their supervisors, are the reasons why most of them stay.
Why Some Go
Southern Humboldt is not for everyone. Some people find our facility too small and our area too rural and remote, with not enough shopping and entertainment and too few housing options. For others, working at SHCHD is a step on a career path to a larger, more mainstream facility with more opportunities for advancement.
On the other hand, a Registered Nurse who has served in key positions in her four years with us had this to say: "This first nursing job was supposed to be a short term stepping stone. However, I have grown to be committed to the needs of the community as well as my beloved co-workers. We're always a family here, and I very much value that we are stand-alone and not incorporated with a larger network like Sutter."
This week, beloved Emergency Room Nurse Billie Bachman marks 25 years of service, and retirement is now on her horizon. She says it has been an honor to serve her neighbors and friends through the years, and the camaraderie makes fellow staff members feel like a second family.
Without the specialty techs such as respiratory and 12-lead cardiac techs found in larger hospitals, nurses have to be self-reliant. To Billie, "Performing more aspects of patient care makes our ER both more challenging and an especially rewarding place to work."
Interested In Joining Our Team?
Interested in employment opportunities? Click here.
Barbara Truitt, Former Foundation Director and Outreach Dept, Southern Humboldt Community Healthcare District