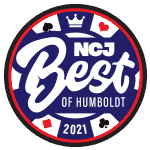 Southern Humboldt Community Clinic is a full-service rural clinic open weekdays 8:30-5:00. Services include annual wellness exams, chronic disease management, routine cancer screenings, vaccinations, referral coordination, and support in reaching your optimal health and wellness. The clinic is accepting new and return patients at every stage of life.
Our community clinic also offers:
Visiting Nurse Program for homebound patients.
Telehealth and phone visits with our healthcare providers.
Patient Navigator to answer questions, connect patients with services, and provide additional support.
Behavioral Health therapy and counseling.
COVID-19 precautions:
All persons will be screened for symptoms of COVID-19 upon entry to the building.
Hours
Monday – Friday
8:30am – 5:00pm
Telephone directory
Dial (707) 923-3921, followed by the appropriate extension number:
Appointments – ext 1221
Clinic Manager – ext 1225
Referral Questions – ext 1224
Patient Navigator & Portal Support – ext 1246
Email: patientsupport@shchd.org
Patient portal
Looking to access the patient portal? Click here to sign in or enroll.