Year in Review, 2017
By Barbara Truitt,
2017 was an eventful year! We welcomed new medical staff and instituted improvements to important Southern Humboldt Community Healthcare District services and operations.
Medical Staffing
Dr. Rucker joined us this fall as our new Clinic Medical Director. With longtime ties to our community, she is an especially good fit and an enthusiastic participant in our efforts to make Southern Humboldt the healthiest community possible. Long-time SHCHD nurse Sarah Beach obtained her certification as a Family Nurse Practitioner this summer. Now a full time provider in our clinic, she joins Dr. Rucker, FNP Barbara Hayes, and Physician's Assistant Linda Candiotti, who returned to our staff this year after battling leukemia. In other good news, Dr. Gadallah is exploring ways to return for part-time work in both clinic and ER after having taken a leave of absence to attend to family needs.
Dr. Newdow continued as our Hospital & ER Medical Director. Dr. Shu and newly hired Dr. Irvine are also regular members of our rotating ER-certified medical team.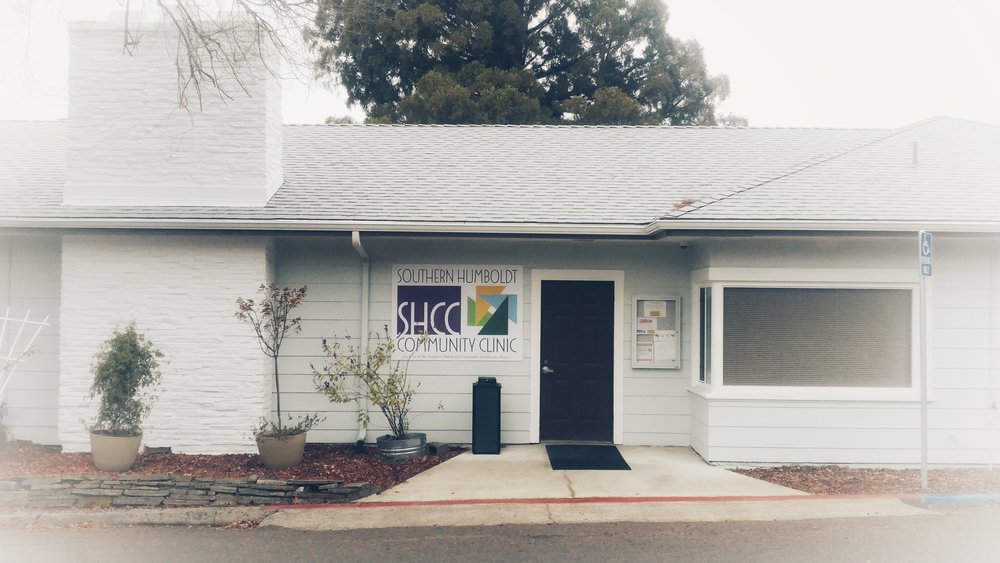 We now have three Clinical Lab Scientists on staff, enabling us to keep our lab open 8:00 to 5:00, seven days a week, no appointment needed. If the tests you need have been ordered by a non-SHCHD provider, be sure to have the order transferred here during that provider's business hours, or bring along a copy of the order when you come.
Other Personnel
We created a photo wall so we can all match names to faces. Next time you're in the building, ask any staff person to direct you to the hallway where these photos are displayed.
Jessica Willis, who had worked in Outreach, accepted an appointment this fall to the SHCHD Governing Board. We thank Jessica for stepping up to this important and challenging public service.
We also welcomed Julia Minton as our new Outreach Manager. Julia is a longtime community organizer and media consultant whom you may have heard on KMUD.
Skilled Nursing Facility
Joe Rial hit the ground running this year as our SNF's Activities Director, instituting programs to improve our residents' lives. We now have a library card that all residents can use, we facilitate Skype sessions for those who can't visit in person, and staff uses the District-owned car to take residents on errands and outings.
Quality Improvement
2017 was a big year for in-house accountability and transparency. All departments joined the Quality Improvement Team to share their goals and their progress toward them. A grant-funded all-staff training in customer service was preceded by a baseline patient satisfaction survey; a follow-up survey will measure that training's effectiveness. Other metrics compare us to our healthcare peers. Watch this space for a column describing our Quality Improvement efforts in more detail.
Family Resource Center
The FRC provided holiday meal baskets for over 600 individuals in 140 families, along with gifts for almost 350 children, and they collaborated with the Garberville Veterans Association on the hundreds of meals served at the Mateel on Thanksgiving and Christmas.
Facilities
We painted our building inside and out. We renovated our courtyard to be a safe, accessible, and inviting area for strolling SNF residents and for gatherings of all kinds. Supported by a generous donation from our Foundation and help from the Lost Coast Interpretive Association, we filled the beds with lovely native perennials.
CT Scanner
The long-awaited CT Scanner project is near completion. After years of study, planning, and regulatory hurdles, we broke ground on the CT scanner site this fall and poured concrete in late December. We look forward to offering state-of-the-art CT scans for our ER and clinic patients, as well as referral patients, in early spring.
Information Technology
Our dedicated IT Manager Jason Dockins has brought virtually all IT maintenance tasks in house and added redundancies, resulting in significant cost savings and shorter, less-frequent down times when problems occur, contributing to improved staff productivity and morale as well as better patient experiences.
Funding
Our CEO Matt Rees lobbied for years to make small rural hospitals like ours eligible for a program providing cash incentives for achievements that bring healthcare costs down by fostering healthier populations. Granted this eligibility in 2016, we've earned over $1.5 million in the last two years. Vigilant cash management enabled us to participate in another program that provides returns well over 50% on short-term investments, generating over $3 million in 2017.
Hard Lessons
The failure of the funding measure we placed on the ballot last spring made it clear that we need to communicate better with the community we serve. Since then, we've focused on addressing your concerns and on sharing more information about the services we provide. Perhaps you've received a phone call or a survey in the mail.
We responded to concerns about our X-ray/radiology pricing by reviewing charges for those services in hospitals from Ukiah to Arcata, and as a result, we've identified ways to price more competitively to make these services more affordable.
The recent catastrophic fires in many areas of California have drawn attention to the need for all emergency services, including medical. While we hope people will never need emergency medical care, we are here to provide the best care possible in case you do.
Barbara Truitt, Former Foundation Director and Outreach Dept, Southern Humboldt Community Healthcare District