Lab Tests Made Easy
By Barbara Truitt,
Open Every Day
Did you know that ours is the only medical lab in Humboldt County that is open seven days a week, 8 am to 5 pm? And we offer a wide range of lab services with no appointments needed for testing.
Certified Dot Screenings
We're very happy to announce that our lab at Jerold Phelps Community Hospital is now federally certified to conduct SAP DOT screenings for CA DMV commercial driver's license holders. From local delivery drivers to long-haul truckers, school bus drivers to Humboldt County and CalTrans employees, the jobs of many in our community require Class A or B Commercial Driver's Licenses, and they need these screenings to keep their licenses in good standing. Other SAP-certified labs in Northern California are far away, and most are not open on weekends. DOT medical exams will also soon be available here, as our clinic's Family Nurse Practitioner Sarah Beach has nearly completed her DOT certification. We'll keep you posted.
hCG Pregnancy Tests
While simple pregnancy tests have long been available in grocery stores and pharmacies, an enhanced diagnostic pregnancy test is now available in our lab.
The hCG quantitative test can confirm pregnancy and determine the approximate age of the fetus. It can aid in diagnosing an abnormal pregnancy or a potential miscarriage as well. These tests are also sometimes performed to screen for early pregnancy before a woman undergoes X-rays or other treatments that could possibly harm a developing fetus.
Here's how it works: The Quantitative Human Chorionic Gonadotropin (HCG) blood test measures the level of hCG present in a blood sample. HCG is a hormone that is produced during pregnancy by cells in the developing placenta. The placenta is the sac that nourishes the egg after it's fertilized and attaches to the uterine wall. During a pregnancy, hCG can first be detected in a blood sample about 11 days after conception. Normally, levels of hCG then double every 48 to 72 hours, reach their peak at around 8 – 11 weeks after conception, and then decline and level off, remaining steady for the rest of a pregnancy.
Personalized Care For Young And Old
You may know our long-time Phlebotomy Technician Todd Gregory. A doting father of four, Todd is especially valued here for his ability to set children at ease for their testing, taking time to explain the procedure, and offering them their choice of brightly-colored elastic bandages. For one young patient who needs frequent blood draws, Todd fashioned a little flower at her blood draw site, creating what she called "a garden on my arm."
Blood draws become increasingly challenging as people age and their veins become more fragile. We're fortunate that through his extensive work with our Skilled Nursing Facility patients, Todd has become especially skilled with and sensitive to all our elderly patients' needs.
Meeting Lab Staffing Challenges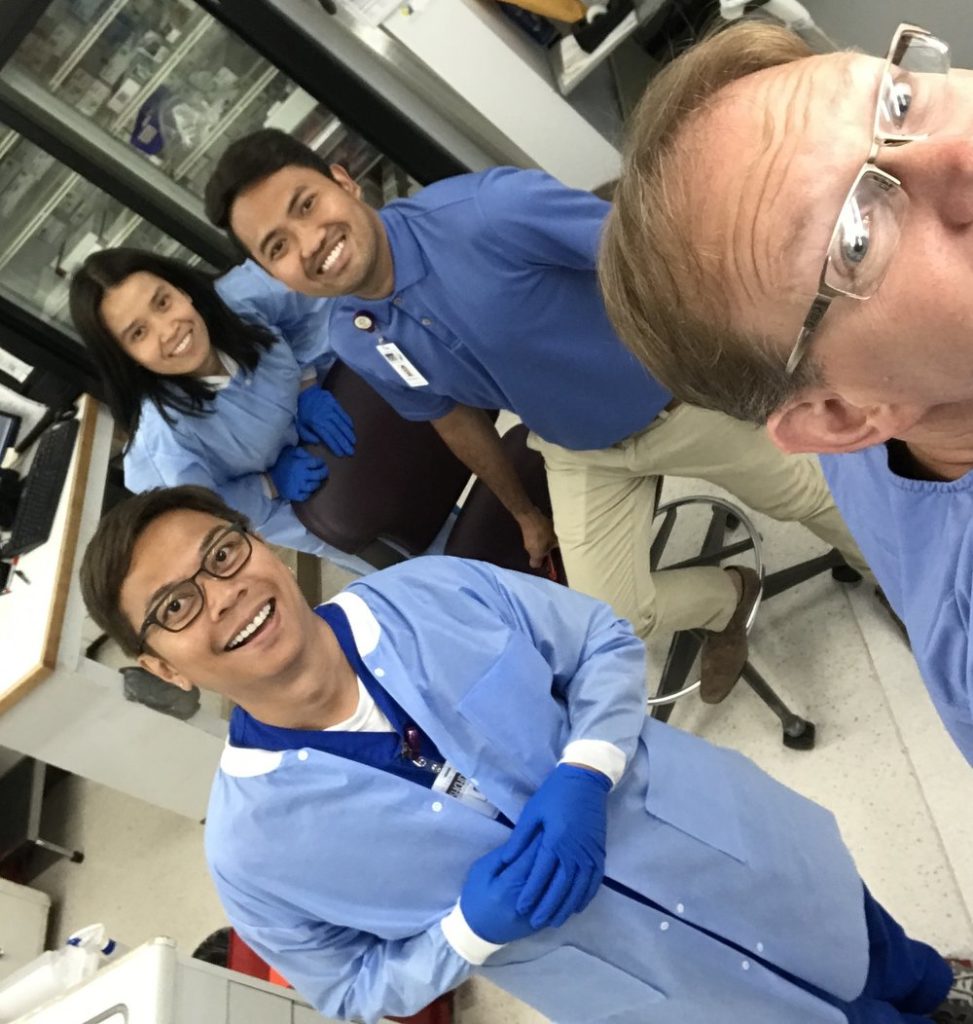 Medical laboratory staffing is difficult throughout the US. With 70% of a physician's medical treatment decisions influenced by lab test data, the current shortage will only get worse, as 12,000 new lab professionals are needed annually in the US, while only about 5,000 enter the field each year.
We are very fortunate to have assembled our current team of certified Clinical Laboratory Scientists over the last year and a half.
First to join us was Pepe Olano, our Lab Manager. Having worked in major metropolitan hospitals in London and Manila, Pepe was looking for a change of pace when he came to the US. His first job here was in the lab at Hodgeman County Health Center in Jetmore, Kansas, population 867. He enjoyed the lack of traffic and the small-town atmosphere, but he found the countryside monotonous.
Asked what he likes about being here, Pepe said "When I moved to Garberville, I made the best decision ever. SHCHD has a culture of teamwork where all departments help each other for better patient care, unlike in big hospitals where departments treat each other as competitors. We are supported by our administration and by the community. And who wouldn't get hooked on the very scenic views of Humboldt County?"
As soon as he was settled here, Pepe set to work recruiting other CLS's. First to come was Joy Rubia, whom Pepe met in Kansas where Joy was the Lab Director at another facility. Rounding out the team is Paul Laceda, whose certification as a CLS came more recently. Together, they constantly explore ways to improve or expand our lab services and to update their knowledge to provide the best possible care.
Stop In Any Time
If you need lab services, come through the Emergency Room entrance on Locust Street to register. If the work was not requested by one of our SHCHD providers, be sure to bring your physician's or employer's order when you come.
Barbara Truitt, Former Foundation Director and Outreach Dept, Southern Humboldt Community Healthcare District