What's cooking?
By Margo Acuna,
Small though our hospital is, we have many mouths to feed. We offer three meals and three snacks per day to all our Skilled Nursing Facility residents and hospital patients 365 days per year. We also provide three meals a day to our on-call Emergency Department physicians and to any Emergency Department patients for whom food is ordered.
Individual diet plans
Meals for inpatients must be highly individualized to promote their health. They may need high calorie or low calorie foods, foods low in sodium or high in protein, or they may need food that accommodates their difficulty swallowing or chewing. Above all, they need food that is palatable, even enticing, to fuel their bodies even when they don't feel hungry.
Helping them feel at home
To accomplish this, we visit each patient individually at least once a day to find out what they feel like eating, so we can provide meals that fit both their needs and their tastes. Though our kitchen is staffed only 12 hours per day, we maintain a stock of refrigerated soups, sandwiches, and snacks that our nurses can access 24/7 for hungry residents and patients.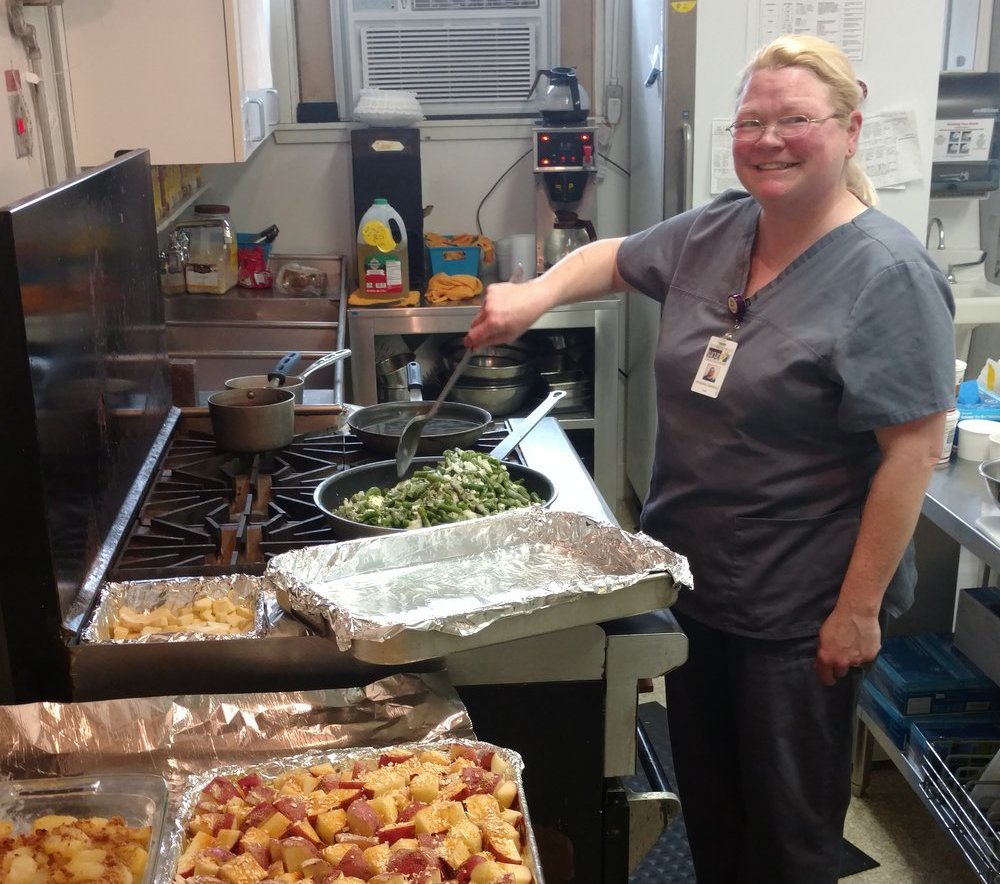 Festive occassions
Major holidays are special for staff and residents alike. We really enjoy decorating our meeting room and providing a family-style meal to patients, their family members, and our employees who are working on that day. For all occasions, whether it's corned beef and cabbage on St Patrick's Day, virgin Margaritas for Cinco de Mayo, hot dogs on the 4 of July, or a cake for a patient's birthday, we make a point of celebrating whenever we can.
We also host the 3:00 PM Friday afternoon music program, offering refreshments when musicians from our community come in to play music for SNF residents, their family and friends, and others from the community. The musical program varies week to week depending on who shows up and what the audience requests, but you can always count on a lively time. Stop by if you're in the neighborhood!
Keeping patients safe
Regulations covering hospital food service are strict, extensive, and complex, with unscheduled onsite compliance surveys occurring annually. Regulatory officials make sure we are following diet orders and approved, standardized recipes, they confirm that we are monitoring and recording proper cooked and stored temperatures for food items, and that we are maintaining a clean and sanitary dietary department with all equipment in good working order.
A very welcome recent addition to our dietary team is SoHum native and Redway resident Amanda Gamble, known by many for her wonderful catering skills.
That's why it takes several people to staff our kitchen. I've worked as Dietary Manager here at SHCHD for 21 years, after having worked for a decade in skilled nursing facilities in Eureka. I live in Fortuna. Tracy Smith, a Carlotta resident, has been a cook here for five years after 20 years in the dietary department of Redwood Memorial Hospital. Cook Ken Chia Cu of Eureka brings extensive restaurant cooking experience, while Weott resident Maria Susana Masuda previously worked for the Humboldt House Inn.
A very welcome recent addition to our dietary team is SoHum native and Redway resident Amanda Gamble, known by many for her wonderful catering skills. Another recent addition is our new registered dietary consultant Gina Wiener, Dietary Manager at Redwood Memorial since 2013, who will oversee our meal planning. Gina will be on site here one day per month. Welcome, Amanda and Gina!
A rave review
Manny Santiella, 91 years old, who has been a resident of our Skilled Nursing Facility for over three years, was recently interviewed about our food service. After having resided at three other nursing homes, two in Eureka and one in Fortuna, Manny had this to say: "Most nursing homes are places where people go to die. This Skilled Nursing Facility could be a model for the country, and it's because of the caring, individualized, loving service. Margo will go to the store and buy what you want. For them, it's not all about loving cooking; it's about loving helping us."
The feeling's mutual
Manny's right. All of us dietary staff members appreciate the opportunity to help those in need, especially our elders and others in need of residential care, to be part of their lives and offer them some choices to brighten their days, and to be part of something bigger than ourselves.
If you'd like more information about our award-winning Skilled Nursing Facility, our Friday afternoon gatherings, or any of the services we offer at the Southern Humboldt Community Healthcare District, please call us at 923-3921
Margo Acuna, Dietary Manager, Southern Humboldt Community Healthcare District