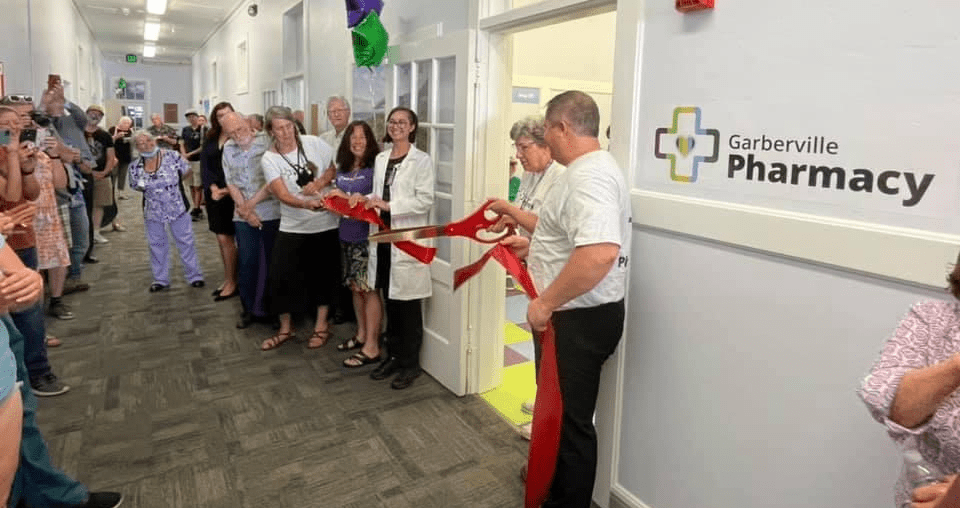 Garberville Pharmacy Celebrates One Year Anniversary
By Chelsea Brown,
Photo R to L: SoHum Health CEO Matt Rees, Pharmacist Cynthia Aguilar, and Pharmacist Carolyn Hino-Bourassa hold the ribbon while Governing Board Member, Corinne Stromstad does the honors at the Garberville Pharmacy Grand Opening on June 29, 2021.
One year ago, Garberville Pharmacy opened their doors to the Southern Humboldt community. It was a long road for SoHum Health to build a new retail pharmacy from the ground up. Getting systems in place and fully functional, has not been without challenges. Now one year later, the insurance contracting process is complete, and Garberville Pharmacy can accept all major insurance carriers.
The dedicated four-person Pharmacy team has filled a total of 28,434 prescriptions and served 3,460 unique patients.
"It has been an honor to work with the local community over the last year to build a pharmacy where pharmacist, technicians, and patients have established a reputation of trust in one another. I look forward to many years of serving Southern Humboldt, as we continue to grow our pharmacy services and abilities to better care for our community members," explains Cynthia Aguilar, PharmD, CACP.
In the year since opening, the dedicated four-person Pharmacy team has filled a total of 28,434 prescriptions and served 3,460 unique patients. The team averages 3,000 prescriptions per month. These numbers demonstrate how essential it is for Southern Humboldt to have its own community-based pharmacy, and Garberville Pharmacy is proud to continue to fill this need.
Garberville Pharmacy, located at 286 Sprowel Creek Road, offers same-day prescription fills and keeps a variety of over-the-counter medications in stock. Pharmacy staff administers the Shingles vaccine (Shingrix) and flu vaccines on a walk-in basis. A medication disposal bin was also recently installed onsite, for safe disposal of unused and expired medications.
For more information about Garberville Pharmacy, visit sohumhealth.org/pharmacy or call (707) 921-7078. SoHum Health is a California Special Healthcare District that operates Jerold Phelps Community Hospital, Southern Humboldt Community Clinic, Southern Humboldt Family Resource Center, and Garberville Pharmacy.
Chelsea Brown, submitted on behalf of the SoHum Health's Outreach department.