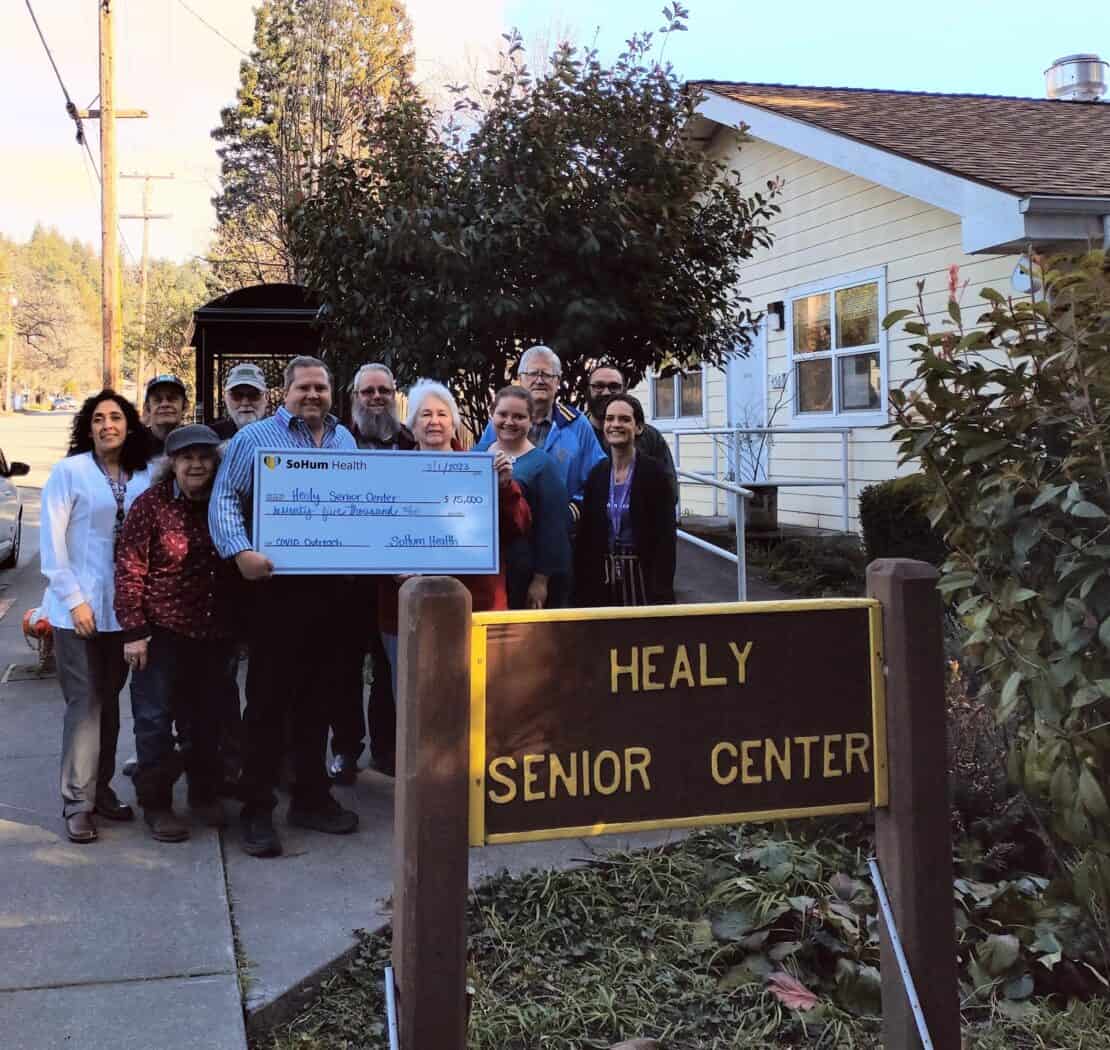 SoHum Health and Healy Senior Center receive $575,000 grant for community outreach and health services in Southern Humboldt
By Chelsea Brown,
Photo Left to Right: Adela Yanez, SoHum Health Chief Nursing Officer / Josiah Phillips, Meals on Wheels Coordinator / Wendi Leader, Healy Board Vice President / Rich Thompson, Healy Board Member / Matt Rees, SoHum Health CEO / James Dement, SoHum Health Quality Lead / Cynthany Windwalker, Healy Board President / Kristen Rees, SoHum Health Chief Quality & Compliance Officer / Jim Quast, Healy Board Member / Nick Vogel, Healy Executive Director / Leonora Ramirez, SoHum Health Substance Use Counsellor
SoHum Health has received a generous $500,000 grant to expand COVID-19 outreach and increase the overall health of the local community. The COVID-19 Test-To-Treat Equity Grant comes from the California Department of Public Health, Physicians for a Healthy California, and the Center for Care Innovations, to provide Rural Health Clinics with financial resources to expand patient support, increase capacity to provide testing and treatment, and remove barriers to accessing care. Through this grant SoHum Health is expanding mobile clinic services to more locations, providing free home covid tests, hosting outreach events, and streamlining internal processes around COVID-19 vaccination, testing, and treatment options.
"It is no small task to bring needed healthcare to people in all the far reaches of our area."
Through the Test-To-Treat Equity Grant SoHum Health was granted an additional $75,000 to partner with Healy Senior Center to expand outreach efforts farther. Healy Senior Center is a trusted local non-profit that has been providing invaluable support services for older adults in Southern Humboldt since 1979.
"We are thrilled to partner with SoHum Health on this initiative with the shared goal of reducing health disparities and increasing access to life-saving diagnostics and therapeutic treatment in Southern Humboldt. It is no small task to bring needed healthcare to people in all the far reaches of our area. By working together, our resources can go further to reduce illness and hospitalizations in our community and we're pleased to play a part in this effort," says Nick Vogel, Executive Director of Healy Senior Center.
Through this partnership and additional grant funding, Healy Senior Center will provide support, education, transportation assistance, and a direct line of communication with local healthcare providers who understand the needs of the Southern Humboldt community. SoHum Health and Healy Senior Center are excited for the opportunity to increase access to needed healthcare for the local community.
Resources
SoHum Health's Mobile Clinic: Offering clinic services and vaccinations in Shelter Cove, Rio Dell, Petrolia and other locations. View the Mobile Clinic schedule at /mobileclinic
Free COVID-19 Home Tests: Free home tests are available to the community for pick-up at SoHum Health Community Clinic, Healy Senior Center, and Southern Humboldt Family Resource Center.
Vaccination: COVID-19 vaccines are offered every Wednesday at SoHum Community Clinic in Garberville and at mobile clinic locations. Vaccine appointments can be scheduled at myturn.ca.gov. Mobile Clinic appointments can be scheduled at (707) 923-3921 x1221.
Testing: SoHum Health's Laboratory offers PCR COVID-19 testing 7 days a week from 8:30am to 3:00pm at Jerold Phelps Community Hospital. Call (707) 613-0055 to schedule a testing appointment.
Treatment: Paxlovid, the medication that reduces the length and severity of symptoms from COVID-19 is available at Garberville Pharmacy. If you have a positive COVID-19 test, contact your healthcare provider to see if Paxlovid is recommended for you. Same-day pick-up at Garberville Pharmacy is available.
Outreach Events
Touch-a-Truck
Saturday, April 1st 12-3pm
Redway Elementary
A unique interactive event for kids & young adults to explore, discover, and learn about their favorite rigs and their hard-working operators! Lawn games, food, health information, and fun. Visit Facebook for more information and to RSVP.
Community Baby Shower
Saturday, April 29th 12-3pm
Southern Humboldt Community Park Barn
Featuring amazing prizes, baby supply giveaways, information, games, snacks, and a time to meet with service providers and other local families – all at no cost to the community. Families and support people of pregnant, considering to be pregnant, and parents of children 0-2 years old are invited. Visit Facebook for more information.
---
For more information about SoHum Health, call (707) 923-3921 x1221.
SoHum Health is a California Special Healthcare District that operates Jerold Phelps Community Hospital, Southern Humboldt Community Clinic, Southern Humboldt Family Resource Center, and Garberville Pharmacy.
Chelsea Brown, submitted on behalf of the SoHum Health's Outreach department.