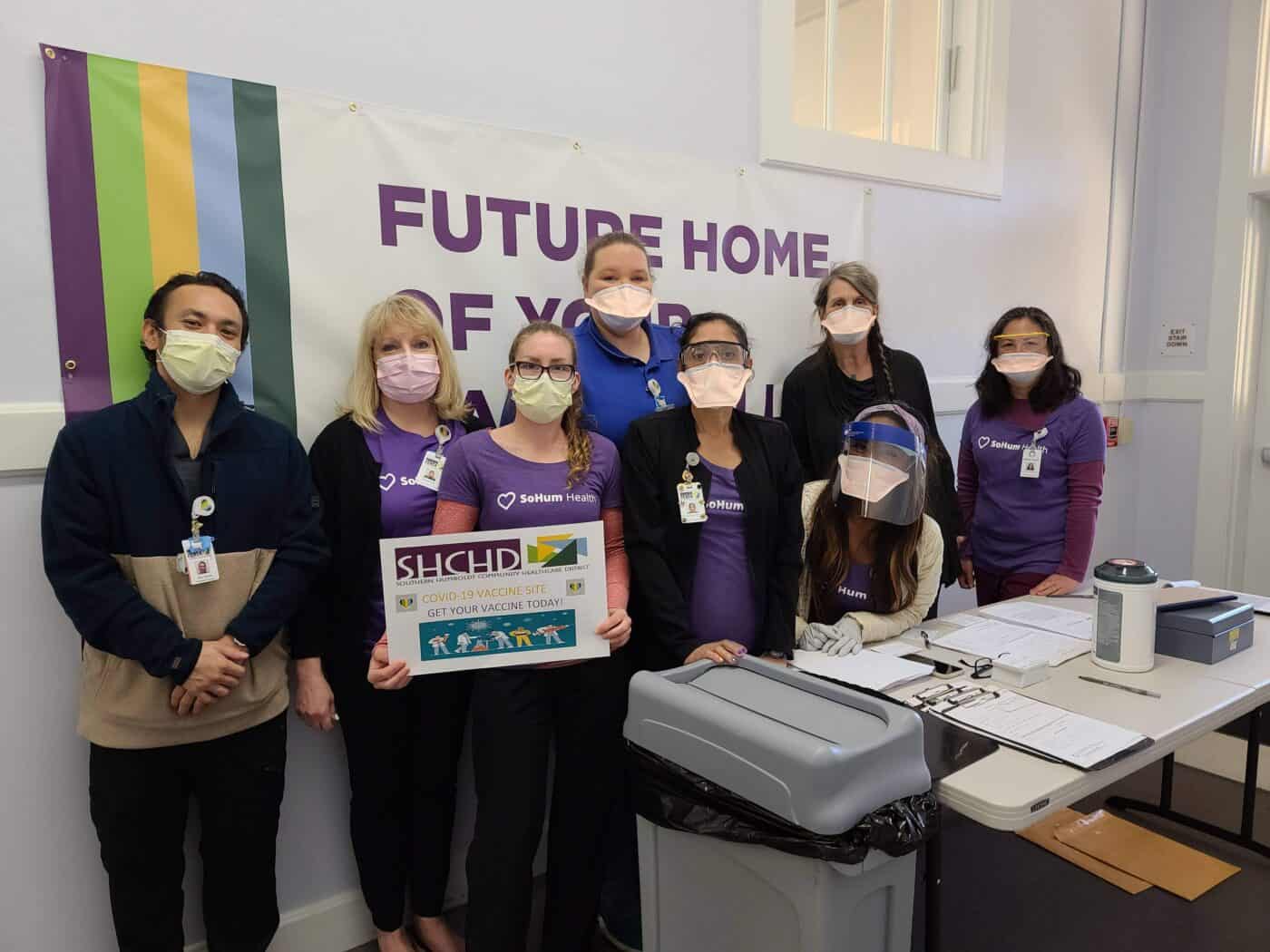 One Year of a Pandemic
By Chelsea Brown,
It's been one year since Humboldt County was ordered to shelter-in-place. How can one begin to define this past year, now that we all know firsthand that the word "pandemic" means a whole lot more than just a widespread outbreak of disease? It means lockdowns, it means no school or daycare, no dinner parties with friends, no visiting family. It means grief. Politics. Isolation. It means fear. And, perhaps most of all, it means never taking anything for granted again.
Every one of us has struggled this past year. Every experience has been different. All have been difficult.
Rural hospitals, like the communities they serve, are accustomed to making the most of limited resources. Scrappy by necessity. Small but mighty. When COVID-19 hit our hospital and community, we had no choice but to roll up our sleeves, put these skills to use, and do everything possible to keep our patients, staff, and community safe. So, that's exactly what we did.
Over the past year, the staff at Jerold Phelps Community Hospital have conducted thousands of COVID-19 tests, fielded thousands of phone calls answering questions and hearing concerns, and received patients who were sick with a deadly virus. For one year, our hospital staff has comforted family members, done wellness checks on local seniors, and brought creativity to problems they have never encountered before. They've cleaned, sanitized, and cleaned again. Our Family Resource Center distributed hundreds of emergency food bags to seniors and families. Our Skilled Nursing staff filled the void for scared residents.
And now, our hospital is in the midst of the next monumental task to keep our community safe from COVID-19 – the vaccination of an entire population.
In an interview with some of these people who found themselves on the frontlines of a battle they never enlisted for, we get a small window into what one year of a pandemic was like for them.
What has the pandemic been like for your patients/clients?
Adela Vargas de Yanez, RN, Hospital ER/Acute Care Manager: The pandemic has been a life-changing event for our patients and the community in general. Patients are anxious to go back to everyday life with no social restrictions and free from fear. One of the biggest challenges for patients has been having to stay home when they are not feeling well because they are concerned they will get infected with COVID while in the hospital.
Joe Rial, Skilled Nursing Facility (SNF) Activities Coordinator: For skilled nursing patients, we have set up methods for their families to be in touch and will accommodate them any way we can, while keeping them safe. I have taken them out on great walks at Benbow and will let a friend come share the day with us while keeping their distance. We also have friends drive up, and talk on the phone while seeing each other through the resident's window. The hard part is that we cannot do any group activities, like communal meals or movie nights. We used to have parties and other things we could do together. I miss that the most.
Amy Terrones, MSW, PPSC, Family Resource Center (FRC) Coordinator: As we all know this pandemic hit like an unseen brick wall, and even though it was the same wall we hit, it affected everyone differently. Overall, our community culture in Southern Humboldt was an extraordinary strength and the "Redwood Curtain" protected us well in some regards. But many families were out of work, incomes were cut off, stress skyrocketed, food was insecure, and children's basic needs were not being met. Some families' decline was hidden, unknown, and unsupported. Parents may have relapsed on substances or anxiety and depression came on. We are still taking inventory as to all that this last year has done.
What has it been like for you and your coworkers?
I've talked with my coworkers about how it has sapped our lives, living separated and a bit fearful.
Adela Vargas de Yanez, RN, ER/Acute Care Manager: The pandemic has definitely brought new challenges to the medical staff. Some of the challenges have been caring for patients who are positive with COVID-19 or have COVID-19 symptoms, performing COVID-19 testing on hundreds of patients, and vaccinating 3,000+ patients within the last few months. The constant changes to regulations and medical precautions to keep staff and patients safe were also challenging to keep up with.
Joe Rial, SNF Activities Coordinator: I went through several phases. At first, I was very nervous about bringing COVID back to the SNF. The fear of killing all of my friends in the SNF has taken its toll. Now, I have a routine of sanitizing and distancing that makes me know I have done what I can. I've talked with my coworkers about how it has sapped our lives, living separated and a bit fearful.
What was the most challenging part of the past year?
Adela Vargas de Yanez, RN, ER/Acute Care Manager: The most challenging part of this pandemic has been not having enough medical personnel. The increased tasks and regulations have forced the hospital personnel to work extra shifts with extended hours to meet the patients' needs during the pandemic, leading to staff burnout.
Amy Terrones, MSW, PPSC, FRC Coordinator: The most challenging part of this pandemic was not being able to provide significant intervention for those families who really need it. There are many families that struggle with mental health, substance abuse, domestic violence, and overall child welfare. This was made worse during the pandemic because some families are completely out of sight in this rural community, and school was the kid's only refuge. It is very difficult to understand the amount of abuse that some kids experience and not be able to intervene.
Seth Einterz, MD, Clinic Provider: It is a dead heat between seeing our health care system refuse to allow a dying person's loved ones to touch them as they pass and seeing our political leaders act with disdain for the sacrifice and suffering of our emergency and intensive care healthcare workers, and seeing that attitude trickle to some in our community.
Have there been any unexpected silver linings?
Adela Vargas de Yanez, RN, ER/Acute Care Manager: The most significant silver lining has been distributing the COVID-19 vaccine and the teamwork and unity during this pandemic. Being able to receive and administer the COVID vaccine to the community has been one of the most rewarding moments during this pandemic.
Joe Rial, SNF Activities Coordinator: We got to see how much our facility cares. They were going to move the entire SNF to another building to keep them safe. They have been at the forefront of the COVID experience, getting us all tested regularly and vaccinated well ahead of so many others with greater resources. In short, they have made me proud to work here.
Dr. Seth: The implementation of state-of-the-art vaccine technology has been interesting, from an academic perspective, but I'm not sure I would call it a silver lining. The fact that this has to a large extent, spared children, has been lucky beyond measure and it certainly could have been otherwise for the first pandemic of this millennium, but to call that a silver lining would be taking a hostage mentality. With a more robust public health system, none of this should have occurred, nor should it have been this bad when it did occur.
Tell me about a particular moment that stands out to you.
During this pandemic, the Family Resource Center Provided food bags for the community, every Friday for the whole year!
Adela Vargas de Yanez, RN, ER/Acute Care Manager: A moment that stands out was when one of our nurses tested positive for COVID. That was a scary time because at least five other nurses and two emergency techs were exposed. At the moment of the news, I realized that everything could change for the worse. Luckily, all the nurses and technicians had negative test results. I don't want to imagine what would have happened if they had tested positive.
Joe Rial, SNF Activities Coordinator: When the pandemic first started, we prepared to set up new lodging for our residents, so they wouldn't be in the same building as the hospital where they could potentially be exposed to COVID. Seeing the support and care that went into that monumental decision stood out to me. Ultimately, we didn't go that route but it made me glad to be a part of this program.
Amy Terrones, MSW, PPSC, FRC Coordinator: During this pandemic, the Family Resource Center Provided food bags for the community, every Friday for the whole year! We've been able to do this with the support of grant funding and community donations. Each week, when the family comes to pick up the bag, we have a short time of engagement with the kids. Often, due to the shelter-in-place recommendations, we may have been the only other people the kids ever engaged with, and boy were they happy to see us! They would proudly show us their finished art and craft piece from supplies we had distributed the week prior, or sing us the latest song they had learned. We were lucky enough to support pregnant mamas and be the first to meet their newborn babies.
Dr. Seth: Sometimes, even before the vaccines, I had to hug someone. I can remember once with a patient and once with a colleague when it was just critical to touch someone in an old-fashioned way. And what a remarkable time we are living through when such a basic act of compassion could feel so reckless. Those moments stand out to me.
What are the lessons or personal growth from the pandemic that will stay with you?
Adela Vargas de Yanez, RN, ER/Acute Care Manager: It will always stay with me that we shouldn't take people for granted. We should hug our loved ones because, during a pandemic, we will miss not having that physical contact. I had to wait four months before I could hold my first granddaughter for the first time. I will never forget that moment when I finally held her in my arms after I got a negative COVID test. I was one of the first ones to get a COVID-19 test in SoHum. How amazing is that?
Amy Terrones, MSW, PPSC, FRC Coordinator: I'll need about 5 to 10 years of reflection for the best answer to this question! Simply, take advantage of opportunities when you can because you aren't guaranteed a next time. Slowing down is okay. Be present. "Don't let what you can't do, stop you from what you can do." – John Wooden
---
The staff at Jerold Phelps Community Hospital is proud to have been able to meet this moment when we were needed most, and bring our best to keep Southern Humboldt safe. We thank everyone in our community who has done their part to get us through one year of a pandemic. With more COVID-19 vaccines getting to the community each week, we are getting closer to the light at the end of a very long tunnel. May 2021 be our year to kick COVID-19 to the curb and get back to what we had before. Except maybe this time, we'll go into it with a bit more wisdom and a whole lot more gratitude.
Chelsea Brown, submitted on behalf of the SoHum Health's Outreach department.