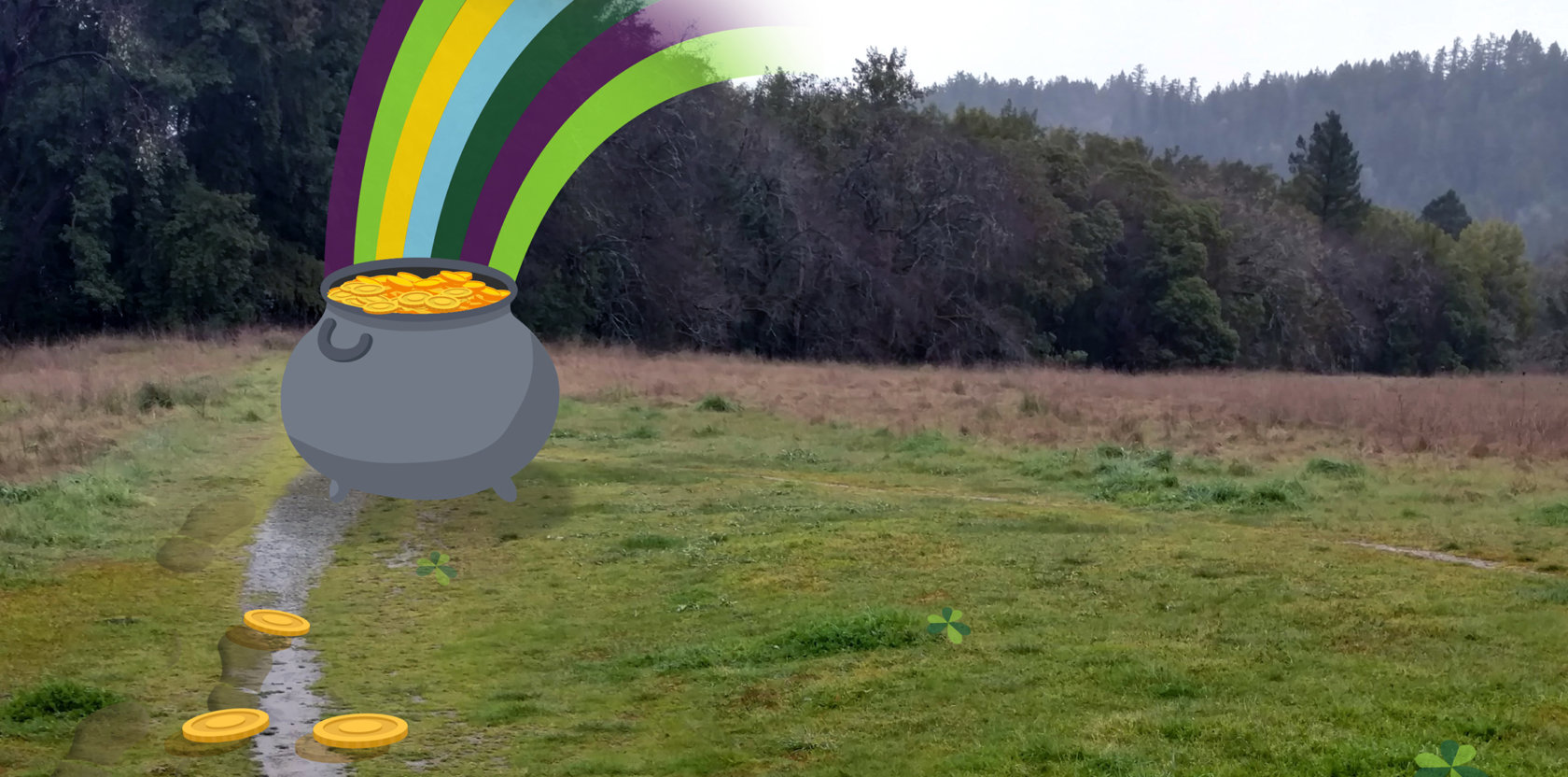 The Gold at Rainbow's End
By Barbara Truitt,
Chase the leprechaun
South Fork High School's Track Team and Interact Club are hosting a Fun Run on St. Patrick's Day, Saturday, March 17, at SoHum Community Park– rain or shine! Gates will open at 7:00, and the race starts at 9:00. First aid will be available at the Southern Humboldt Community Healthcare District booth.
This isn't your typical 5k run, this is a race to beat the leprechaun to the pot of gold! Don't worry, you'll have a head start. For those lads and lasses passed by the leprechaun, just make sure he doesn't leave his gold mark on you. There will be special prizes awarded for those who beat the leprechaun and for fastest times by age group. Dressing up is encouraged, especially in green and gold.
Registration
You can register on-line, in person at the race course on Friday afternoon, 3/16, 4 to 6 pm, or on race day, Saturday, 7 to 8:30 am. Register as soon as you can to ensure you'll get a T-shirt, which is included in the $25 fee while supplies last.
Enter through the main gate by the farmhouse. Parking and registration will be in the meadow on the left, near the old pear trees.
Proceeds will benefit SFHS Track and Field and the Interact Club .
What's an Interact Club?
Interact is Rotary International's service club for young people ages 12 to 18. Interact Clubs are sponsored by individual Rotary clubs which provide support and guidance, but they are self-governing and financially self-supporting.
Interact gives students the chance to make a real difference while having fun. Every Interact Club carries out at least two service projects a year: one that helps their school or community and one that promotes international understanding.
Our local Interact Club has one international and two local projects underway. They are working with other Northern California Interact Clubs to provide solar panels to villages in Africa. They assemble "Blessing Bags" containing socks and toiletries and distribute them locally to people in need. They are also creating mini-libraries, also known as Little Free Libraries. Currently two of these little sheltered structures are in place, one at the Garberville Chamber office and one at the Alderpoint Store, where anyone can take a book and/or leave a book for others to enjoy.  If you have a good spot for a mini-library, call South Fork High.
Pathways to health
The shift in healthcare from fixing what's wrong with people to bolstering what's right has really taken hold, and events like this Leprechaun Chase are a valuable component of that shift. Local wellness endeavors of all kinds are appearing in towns throughout the US. Here in SoHum we're fortunate to have  gorgeous walking, running, and hiking trails close at hand in state parks as well as our own Community Park for these activities and more.
Getting started
Group activities are a great aid to following through on wellness goals, more effective, even, than monetary rewards. Many people (myself included!) can't seem to start and maintain health-promoting behaviors on their own despite research that has shown that engaging in four basic health behaviors (physical activity, eating a healthy diet, not smoking, drinking alcohol in moderation) leads to a 11–14 year delay in all-cause mortality.
What would you like to do?
Virtual footraces, where individuals or teams log their accumulated sponsored miles to achieve a fundraising goal, community weight-loss challenges, dancing for health and mental acuity, comprehensive software-supported group fitness programs, tracking improvements in blood pressure, smoking cessation, weight loss, healthy eating, exercise hours… communities across the country are improving the health of their populations with activities like these.
We're eager to hear what sparks your interest. We want to join with other organizations and entities to promote the group wellness activities our locals want. SHCHD and our Foundation will be hosting information booths at Leprechaun Chase, at the Community Park Easter Egg Hunt on March 31st, the Community Health Fair in Garberville on May 4th, and the Mateel's 42nd Annual Summer Arts and Music Festival, June 2 & 3 at Benbow. Come talk with us!
Barbara Truitt, Former Foundation Director and Outreach Dept, Southern Humboldt Community Healthcare District