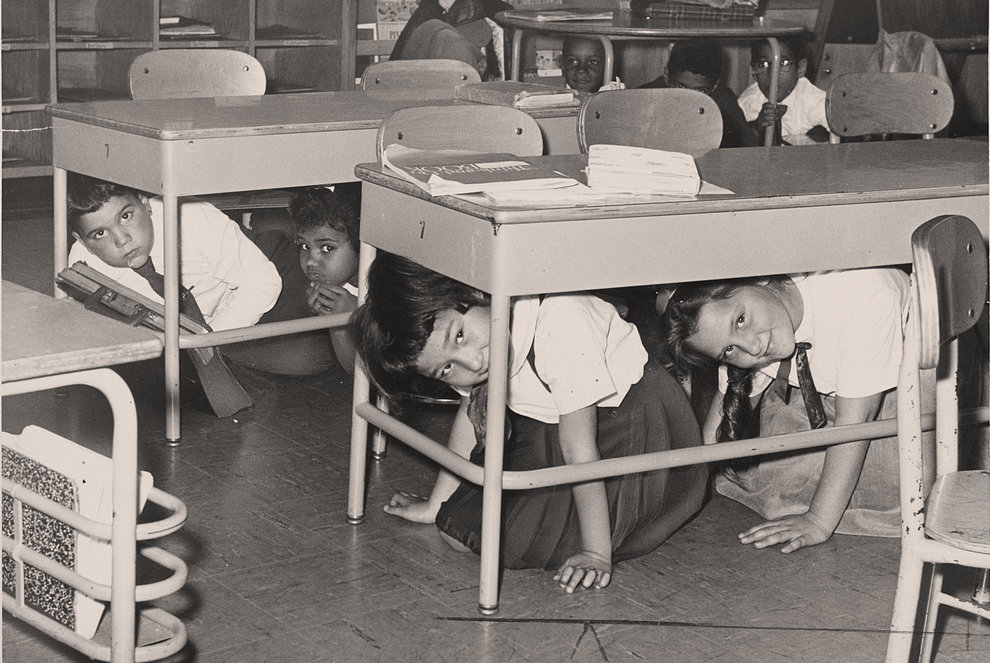 Earthquake!
By Barbara Truitt,
Photo: Wikipedia/Library of Congress
You awaken to violent jolting, the sound of glass breaking and large objects hitting the floor, the groan of trees as they topple, and (if you live in town) perhaps a flash and bang as the transformer near your house explodes, leaving your home and the street outside in total darkness.
You grope around for the flashlight that is supposed to be there and the shoes you always mean to leave by your bed as you try to remember the advice from that earthquake preparedness site you looked at last time we had a good shake.
What to do now
Here are some tips that might help you get better prepared before "the big one" hits.
Practice DROP, COVER, & HOLD ON. We know we should do this, and yet when I felt the last couple of jolts, I sat wondering if it would be a big one instead of protecting myself in case it was. Plan a strategy for wherever you might in your home or workplace when an earthquake hits.
Keep your vehicle's gas tank half full.
Assemble an emergency kit containing food and at least a gallon of water for every person and animal in your household, a first aid kit, and any needed medications.
Make copies of your driver's license and passport as well as other important family documents.
Store your emergency supplies in unbreakable waterproof containers, preferably outside your house.
Once that's in order, think about what you'll wish you had if your house were destroyed along with the road leading to it. The recommendation for remote areas like ours is three weeks worth of water, food, clothing, bedding, and medications, along with a cell phone charger, flashlights, and basic hand tools.
Also important, make an emergency plan with your family, including a distant contact person. Connect with your neighbors. Find out who in your neighborhood has a HAM license; if cell towers go down, HAM radio may be our only way to communicate. And finally, take a First Aid and CPR class next time one is offered locally.
What to do when the big one hits
Most injuries occur when people try to move too far. If you're outside, move away from trees and structures if you can, lie down, and cover your head. Inside, duck under a table or into a corner away from windows that may blow out or furniture that might fall on you.
Preparing Jerold Phelps Hospital
In the Northridge earthquake of 1994, eleven hospitals were damaged badly enough to transfer their patients and close, greatly increasing the burden on the few functional hospitals.   In response,  the California state legislature established new seismic requirements for all acute care hospitals. These requirements are administered by Office of Statewide Health Planning and Development (OSHPD).
By 2020, we will complete mandated upgrades that include anchoring or bracing bulk medical gas, emergency lighting equipment, hospital equipment, and communication systems.
To date, Jerold Phelps Community Hospital has spent over $1,000,000 to comply with structural requirements that included strengthening walls and roof systems, relocating emergency fire suppression infrastructure and communications equipment, and creating a structural separation between the hospital and the rest of the building. By 2020, we will complete mandated upgrades that include anchoring or bracing bulk medical gas, emergency lighting equipment, hospital equipment, and communication systems.  Our emergency power supply, a 25KW generator, will have to be replaced and relocated to meet these seismic requirements. We expect the upgrades to cost at least $750,000.
County Emergency Alert System
The Humboldt County Sheriff's Office of Emergency Services has a new emergency alert system that will notify you via your landline, email, and/or cell phone about local disasters, hazards, and emergencies. They tested it last Wednesday, 3/28.
If you didn't get a notification or want to add another number, you can register at humboldtgov.org/alerts. After you supply your location and phone/email information, the site provides space for you to indicate special needs of anyone in your household. It also asks if you have any skills you could volunteer if disaster strikes.
Emergency Preparedness Team
The Humboldt County Sheriff's Office of Emergency Service coordinates the Humboldt Operational Area, which includes our SoHum Emergency Preparedness Team. It is comprised of representatives from our hospital, Redwoods Rural Health Center, local schools, CalFire, local VFDs, Ham radio operators, SoHum Tech Rescue, KMUD, the Civil Air Patrol, the Healy Center, and others. This volunteer group offers community education on disaster preparedness, and they are ready to meet the challenges when disaster hits.
For more general information, google "earthquake preparedness." For more about the Sheriff's Emergency Services and their notification system, email them at OES@co.humboldt.ca.us or call them at 707-268-2500. For more information about Jerold Phelps Community Hospital and all the services the Southern Humboldt Community Services District provides,  call us at 707-923-3921.
Barbara Truitt, Former Foundation Director and Outreach Dept, Southern Humboldt Community Healthcare District