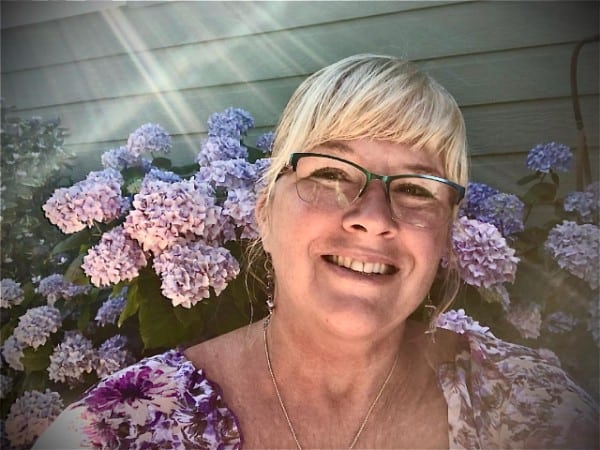 Carolyn Eldridge
By Ann Constantino,
"Birth is such an intimate time, and it often brings up stuff from our past, and if you have the right people with you, it can be healing. You can find a way to feel your energy and your power." Carolyn Eldridge, licensed midwife and registered nurse (LM, RN), has been attending local births for almost 40 years, bringing her passion for caring intimacy to a craft she has seen develop immensely during her career.
Getting started.
"…she realized she 'wanted to reach out and help other women…"
Carolyn attended her first birth while in nursing school in Michigan in 1979. "It was so different back then, the way that women were treated. We have made a lot of really good strides."
Having a sense that "there has to be a better way to do this", when Carolyn moved to California, she began working with local midwives Lily Aquarian and Kate Lanigan, and it was after the birth of her son Cody that she realized she "wanted to reach out and help other women" have the kind of beautiful and healing experience that she had had.
In 1984 Carolyn started working as a doula, or labor coach, for both home births and at the hospital in Garberville. "I taught breast-feeding classes and got involved in a lot of education. I apprenticed with Lily and Kate and Rebecca (Sheranian) and of course with Lorraine (Carolan)."
In 1996, Carolyn sat for her certification exam and began working as a licensed midwife at Redwoods Rural Health Center. She had held several other positions at the clinic up to that point and knew her way around the clinic setting. She shared birth call hours with Lorraine and was backed up by Mark Phelps and Bill Hunter at the Jerold Phelps Hospital birthing center.
When the local facility closed its doors in 1999 she took a job in Eureka at General Hospital Midwifery where she worked with well-known obstetrician Kim Ervin. "It was such a gift that she was open to working with me," says Carolyn about the opportunity to work in a hospital setting at a time when very few licensed midwives were able to get hospital privileges. "I really learned a lot."
When St. Joe's took over General Hospital, Ervin opened her own practice in Eureka and Carolyn continued to work with her and the two other obstetricians in the office. "As obstetricians they took care of a lot of high-risk women and taught me how to do that also."
A big change.
"It's not that I'm unique, but the type of services I offer are from the heart."
Carolyn followed Ervin on her next move to Arcata where she was again able to obtain hospital privileges at Mad River Hospital. She also worked for many years with Dr. Connie Basch and filled in at United Indian Health Services providing hospital care as well. When the Docs she worked with began to move away from births in their practices Carolyn started working at Open Door Clinic's prenatal center.
She continued at Open Door until management would not allow her an exemption to their covid vaccine mandate. Despite her physician's documentation of a prior serious reaction to a vaccine, Open Door insisted on knowing the exact vaccine ingredient that was expected to cause a reaction in order to honor the exemption. Carolyn was let go by Open Door when her physician was unable to provide that information despite considerable research.
"It's not that I'm unique, but the type of services I offer are from the heart. It's what I was taught by all of the midwives I worked with. I take time to sit down and really talk to women. When I say 'how are you?' I really mean it. I don't feel like that type of care is always available." Because of that, she adds, "It was so hard for me when I was terminated."
While midwifery services have been reduced by Carolyn's departure from Open Door, Moonstone Midwives in Arcata is an excellent option for women, and a group of Humboldt County medical providers are beginning to conduct zoom meetings on the topic of potentially opening a non-profit birth center in Humboldt County.
Carolyn's return to Redwoods Rural.
Now back at Redwoods Rural, Carolyn is an integral part of the prenatal program there which started up again in 2018. Despite the fact that deliveries are not done locally, the women under RRHC's care choose where they would like to deliver. Those clinics "allow us to do all the care at RRHC and only require two visits at their facilities", making it possible for local women to receive almost all their prenatal care close to home. "So far it's been working out really well, and they will even allow telehealth visits for women who can't afford the gas to make it to those two out of town visits." Once birthing time nears, the chosen clinic has providers who are on call while RRHC provides parallel care.
Redwoods Rural has Dr. Tim Nicely who comes in once a month to see prenatal patients, and Carolyn's comprehensive services are available once a week. "We offer all the supportive services, including nutritional advice. Our Executive Director Tina (Tvedt) was able to get us an ultrasound machine. We can do monitoring, which we call a non-stress test, plus we have the lab right there."  While there are no plans at the moment to reopen a local birthing center, Carolyn is delighted that women can get every other prenatal need taken care of locally.
Since birthing services have been unavailable locally for over 20 years, many families have made a habit of going out of town for many related services. "I'm not sure everyone even knows about the program at Redwoods Rural," she adds, mentioning a generational communication gap the clinic is working to bridge.
Regarding Covid, Carolyn's wish is that the medical establishment would be open to early treatment strategies. She is skeptical of the restrictions placed on sharing early treatment options. "It's heartbreaking to me how many lives could have been saved if the information about early treatments had been made available."
While Carolyn sees the closing of the JPCHD's birthing center as the most significant change to local healthcare services during her career, she is hopeful that the planned new hospital will encourage more people to stay local for their care. She would also like to see expanded services for a generation that has become accustomed to the specialized care that has replaced the 'country doc who does it all' scenario she stepped into at the start of her career.
"I think both local clinics are open to what the community would like. We have Chinese medicine and a lot of counselors. With Dr. Nicely and I doing the prenatal care at Redwoods Rural and a new pediatric nurse practitioner in Garberville, I do believe we are starting to see more families stay local for their care."
Education is important.
While Carolyn prefers the personal and intimate approach to prenatal and birth services, she is thankful for improved and increased screenings for at-risk pregnancies. "While I think those things are very helpful, I still believe providing education and awareness is some of the best care we can give. I wish every pregnancy could have a positive outcome."
The pandemic may have taken a toll on a woman's sense of self-direction during pregnancy. Perhaps the stress of how difficult the medical system has been to navigate since the onset of covid has cost families an awareness of options that Carolyn feels is an essential ingredient in a healthy birth. "Some of the women that I'm seeing are just not as interested in education. When I ask them what their plan is for pain management they say, 'I'll just go with it'. I wish more people would take advantage of the resources available for education. We used to do so much more of that."
As a woman prepares for birth, Carolyn says, "I would encourage everyone to have a doula who has been with you throughout your pregnancy. Through covid the hospitals were limiting who could be there with you, but now they are allowing you to have your partner and another support person." She named Michela Hernandez of Sacred Bridges as an outstanding local source of childbirth support and education. Amy Terrones of the Family Resource Center is also a wonderful educator for families.
While Carolyn had her own women's health office in Garberville she often included energy work for her patients. "I feel like that is a missing piece in western medicine. I would have women come in for their annual exam or whatever and then afterwards we would do an energy session. It so amazing and beautiful." A reiki master, Carolyn would also use native drums and rattles, tuning forks, and essential oils to work on the energy field of her patients, "which is so balancing emotionally, physically and spiritually." Sadly, she closed her office at the start of the pandemic when county cleaning protocols dictated she use chemicals she was regularly advising women to stay away from for the good of their health.
To anyone going into a healthcare field today Carolyn encourages them "to get the most education they can and to really believe in their ability to make a difference in other people's lives." Citing her struggle to be valued as a licensed midwife when trying to obtain hospital privileges and then persevering despite uninformed attitudes, she saw some of the biggest opponents of midwifery turn into some of her biggest supporters.
Acceptance of Midwives.
"Our community is fortunate to have her here…"
The eventual acceptance by the medical establishment of the presence of midwives at births may have been aided in our local case by being rural. Carolyn is aware of colleagues in more urban settings who are still unable to obtain hospital privileges despite all the evidence in favor of such support. "I think it helped that everyone knew me and knew what kind of experience and training I had."
Layers of bureaucracy sometimes prevent licensed midwives from being brought into hospitals when system administrators are ignorant of the rigor of their training. In the case of ACOG (American College of Obstetricians and Gynecologists), a membership organization that can influence hospital staffing decisions, a blanket rejection of the safety of home birth after a previous caesarian is an example of bureaucratic interference that could be harmful to the health of mother and baby.
Carolyn is hopeful that if licensed midwives can be governed under their own board that they will have more professional autonomy as well as collegial respect.
Carolyn has noticed a change in the women she serves as technology has taken a more dominant role in people's lives. "I think people want more instant gratification like they get from their phones and social media. But education and birth are a lot of work. People aren't used to having a lot of choices. They are used to a doctor coming in and not asking questions and just telling them what to do. They are a little surprised by what I offer them but most of them appreciate it in the long run."
Carolyn was inspired to become a nurse and a midwife by an early childhood tragedy that took her 2 year-old older sister, and a difficult birth that nearly took their mother. She has always felt her sister was with her on some level. This connection has kept her steadfast in the defining traits of her practice: caring, compassionate, intimate service delivered in all the time it takes to provide a nurturing environment for the whole woman and whole baby.
With 2600 births on her resume, including a whirlwind 6 babies within 24 hours during one stint at Mad River Hospital, it is safe to say that Carolyn found her calling as a licensed midwife. Our community is fortunate to have her here and as we have surfed the often erratic wave of acceptance of midwifery, her enduring standard that birth should be a beautiful, healthy, whole, even healing experience has become integral to local women's healthcare.
Submitted on behalf of the SoHum Health Outreach Department
Ann Constantino, submitted on behalf of the SoHum Health's Outreach department.