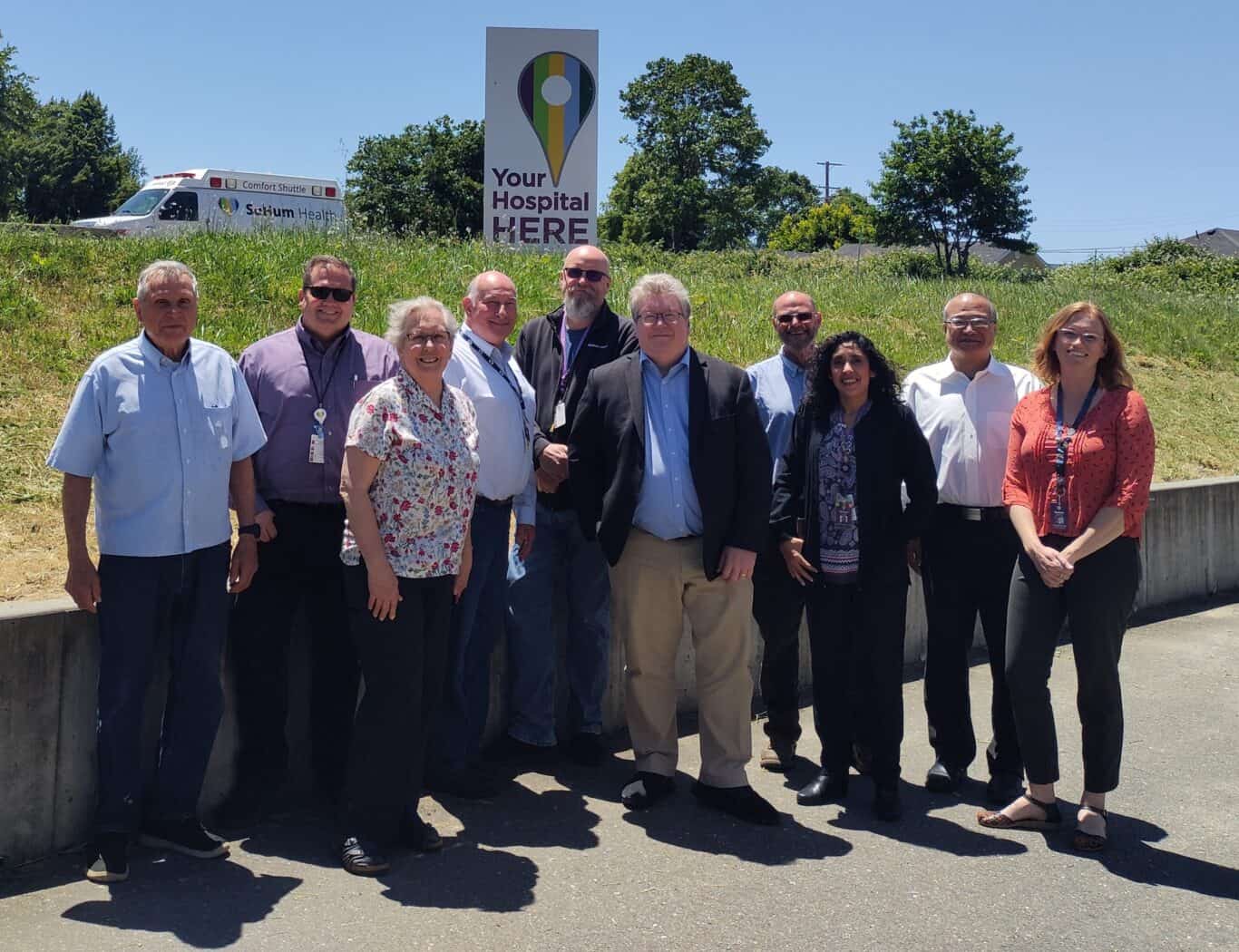 SoHum Health Selects Ratcliff Architects for New Garberville Hospital and Clinic Design
By Chelsea Brown,
Photo caption: Ratcliff Architects and SoHum Health leadership begin the Planning Development Phase for a new hospital and clinic in Garberville. Left to right: Board Member, Jay Sooter; CEO, Matt Rees; Board Member, Barbara Truitt; Chief Financial Officer, Paul Eves; Chief Operations Officer, Kent Scown; Principal Architect, Doug Strout; Board Member, Kevin Church; Chief Nursing Officer, Adela Yanez; Senior Associate, Michael Hsu; Foundation Development Director & Outreach Manager, Chelsea Brown
Ratcliff Architects out of Emeryville, CA have been selected for the master planning and design of a new hospital and clinic building in Garberville. The new facility to be located at 286 Sprowel Creek Road, will replace Jerold Phelps Community Hospital and SoHum Community Clinic's current building, which is unable to meet approaching statewide seismic requirements. The project steering committee held their kick-off meeting in April 2023, officially beginning the Planning and Concept Site Development Phase of the endeavor.
The firm has extensive experience designing healthcare facilities and community hospitals.
Founded in 1906, Ratcliff Architects have built a reputation for designing spaces that integrate physical, functional, and cultural elements in artful and holistic ways. The firm has extensive experience designing healthcare facilities and community hospitals throughout California including projects for UCSF, Stanford, and Kaiser. Principal architect, Doug Strout brings 38 years of experience in master planning projects ranging from large medical campuses to small community hospitals. His design approach combines the technical demands of modern healthcare facilities with the need for sensitive, healing environments. To view a portfolio of Ratcliff's work in healthcare visit: ratcliffarch.com/healthcare
In the coming months, Ratcliff will meet with key stakeholders and SoHum Health leadership to gather information about priorities, work flows, and functions. The team will draft options for building placement, entrances, parking, wayfinding, and other key components of the design, while engineers analyze the topography of the site and map out access to utilities. Through this process, the entire organization is able to participate in the design process and consider what may be possible for the community, with a new building that is specifically designed for them.
SoHum Health's project steering committee is keenly focused on designing a facility that reflects the values of Southern Humboldt and meets community health needs in the most efficient and insightful way possible. It is estimated that Jerold Phelps Community Hospital and SoHum Community Clinic will move into the new facility in January 2029. SoHum Health would like to extend a special thank you to the many capital campaign donors whose monetary pledges are making this project possible.
SoHum Health is a California Special Healthcare District that operates Jerold Phelps Community Hospital, Southern Humboldt Community Clinic, Southern Humboldt Family Resource Center, and Garberville Pharmacy. For more information about the many services they provide for the community, visit sohumhealth.org or call (707) 923-3921.
Chelsea Brown, submitted on behalf of the SoHum Health's Outreach department.