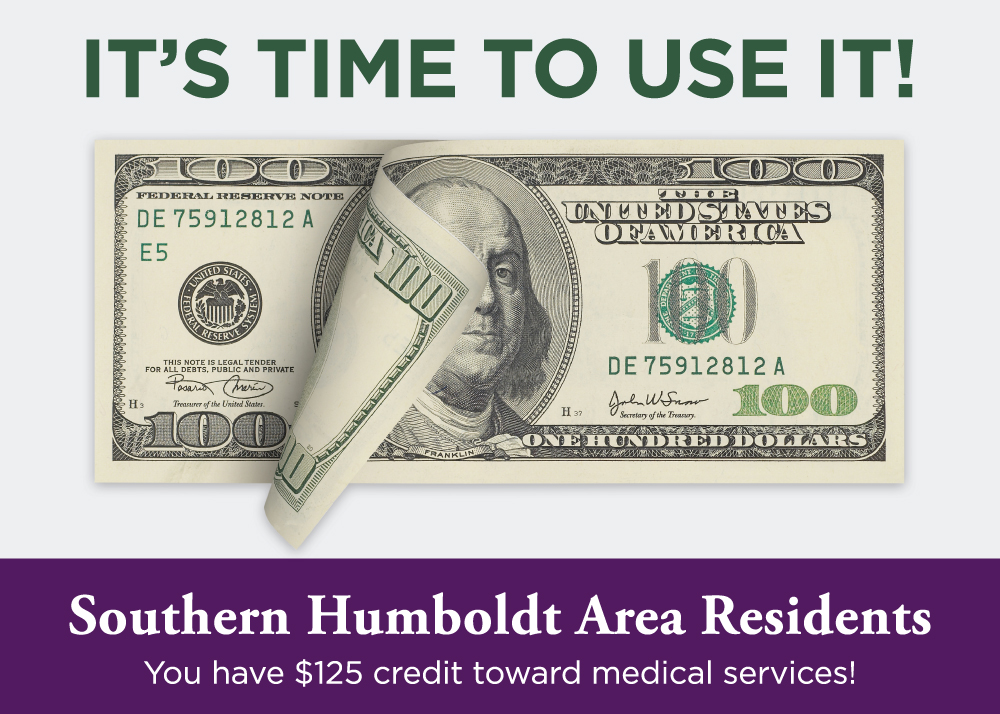 The purpose of this voucher program is to provide those property owners who have paid the Southern Humboldt Community Healthcare District (SHCHD) special tax, their dependents, or renters of a property on which the special tax is paid, with a parcel voucher credit redeemable in the amount of the SHCHD tax paid, for medical services provided by the District.
Procedure
Persons who support SHCHD through payment of a Special Assessment on their property tax bill(s) receive a parcel voucher credit for each tax paid, usable toward healthcare services provided at Jerold Phelps Community Hospital, its emergency, laboratory, x-ray, and mammography departments, and/or the Southern Humboldt Community Clinic. The person responsible for payment of the tax may choose to use their parcel voucher credit for themselves and their dependents or to pass it along to persons residing on and renting the parcel. Parcels with multiple rental units receive a single voucher credit. How that voucher credit is disseminated is the decision of the person(s) responsible for the payment of the tax.
Qualified residents can request a voucher equal to the amount of the current parcel tax paid on their residence.
Tax years run from July 01 through June 30 of the following year. You may apply for a parcel voucher credit from the day the tax year begins through September 30th of the following year, three months after the end of each tax year (i.e. July 1, 2020 to September 30, 2021 for the tax year 2020-2021; July 01, 2021 to September 30, 2022 for the tax year 2021-2022, etc.).
Credits are valid for up to two years, beginning July 01 of the tax year of issuance through June 30 of the following tax year and can be used to cover insurance co-pay and deductible amounts and uninsured patient-related costs, though they cannot be used in lieu of claims processing that must be filed with an insurance company, Medical, Medicare, or any other third-party claims. Credits may be used as payment of patient account balances from January 01, 2018 forward.
No refunds will be given for parcel voucher credits not redeemed for services and there is no actual cash value to the parcel voucher credit.
Parcel voucher credits may not be sold or transferred. They are exclusively for use by the property owner(s), renter(s) and their dependents in lieu of cash.
How it works
When you desire to use a parcel voucher credit, request the discount when arriving for an appointment or when making a payment for medical services.
Property owners will present a copy of their tax bill showing the SHCHD special tax along with state issued identification. Note that owners who reside outside of the district boundaries (absentee owners) are eligible to receive parcel voucher credits in the same manner as resident owners.
If you are not the property owner, you will need to provide proof of residence and permission from the owner:
Present a copy of the current tax bill with the name of the owner along with a statement from the owner containing the names, addresses and phone numbers of both the owner of the taxed parcel and the person who lives on the parcel. The statement must also include a list of individual(s) eligible to use the parcel voucher credit.
In addition, you must show proof of residence in one of the following ways:
Utility bill with the physical address and renter's name
State issued ID with physical address and renter's name.
Our business office will track parcel voucher credits and their use by parcel number with one voucher issued per parcel.
Example
On January 2, 2020, John Smith requests his $125 voucher credit for the tax year beginning July 1, 2019. He also has a $50 credit remaining from his  July 2018-June 2019 voucher, for a total of $175 in voucher credits. In March 2020, Mr. Smith receives an invoice advising that his insurance has paid its portion, leaving $225 for the district services he received on his recent visit. Mr. Smith is able to apply his current  2019-20 $125 voucher and his remaining 2018-19 credit of $50, reducing the amount he owes to $50.
Other information
District property owners should consult their income tax preparer regarding tax implications of this benefit.
Properties within the healthcare district boundaries are included within the following zip codes:
Alderpoint 95511
Garberville 95542
Miranda 95553
Myers Flat 95554
Phillipsville 95559
Piercy 95589
Redway 95560
Weott 95571
Whitethorn/Shelter Cove 95589
If you have questions, phone the SHCHD Patient Financial Services Manager at 707-923-3921.