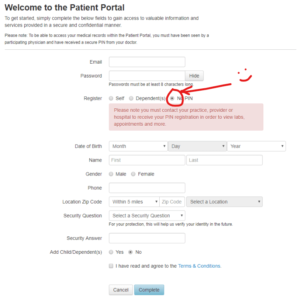 Making a patient login account is simple if you follow these simple steps.
Select "No PIN" as your register method, and then enter the following information in the sign up form: email, password, date of birth, name, gender, phone, and security question/answer.
Click the Complete button to submit the form and register. It's that easy.
Finally, after submitting the registration form contact (707) 923-3921, ext. 1261 for your personal identification number (PIN) to complete the process.
Sounds pretty simple, right?
Create account